Thursday, November 09, 2006
Ragging rivers and flooding hit the mountain on Monday, 11/06/06, with lots of damage to area homes and plenty of erosion. Sources say at the higher elevations 30 inches of rain hit within a 24 hour period. Lower elevations in Welches had 8 inches of rain in the same time. Eight foot waves carried huge trees and boulders down rivers.
On Monday night the Sandy River was running at 4,000 cubic feet per second which is high and on Tuesday morning, it was running at 17,000 cubic feet per second. This was a much worse mountain event than the 1996 flooding.
Pictured below is a home located on Riverside Drive in Timberline Rim. The shot is taken from the Sandy River Lane side of Timberline Rim. Half of this home went in to the river during the night. A couple of homes down from where this shot was taken a home was evacuated on the bluff due to river erosion below taking out their deck. The force of the river is eating away at their bank.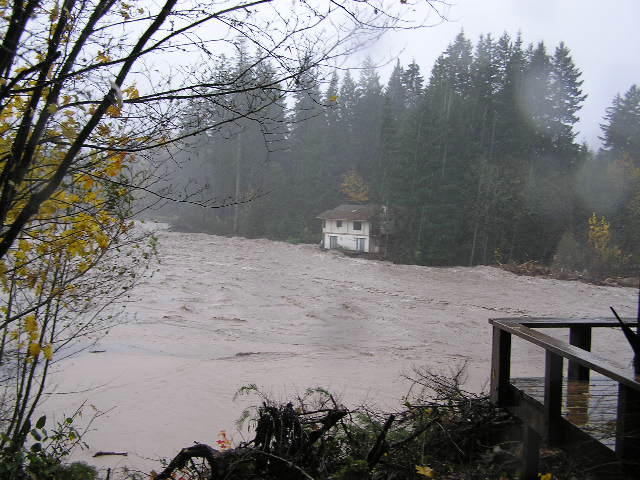 This home below is located on LoLo Pass Road between the first two bridges. Luckily a log jam helped divert water away from the house. Many log jams formed along the Sandy River.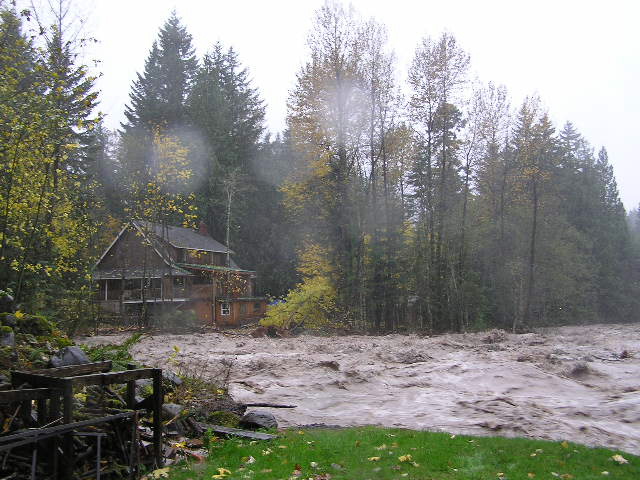 One nearly million dollar home at the upper Barlow Trail Road area had the entire second floor taken out by the river. Unfortunately, their Lexus was in the river too. The owners were away at the time it hit.
LoLo Pass Road was shut down all day as the river ate away part of the road. It's now open again but only one lane at this time.
To top this all off, both roads in to Mt. Hood Meadows ski area are out of commission. Highway 35 at the Robin Hood Camp ground area is totally out.... shades of 1980 flooding when the entire highway was taken out from flooding and closed for the season. The White River Canyon side, Portland side access, let loose with debris and water. I'm sure the pressure is on for this area to get roads open for their pending ski season!
We are all hoping the weather calms down so damage can be assessed and life returns to normal.